community star metro community choice 2018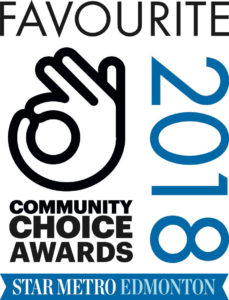 It means a lot to be recognized, but it means even more when you're recognized by your own community. We're proud to announce that Whyte Avenue Chiropractic has been named one of Edmonton's favourite Chiropractic clinics by the Star Metro Community Choice Awards for the third year in a row! Thanks to everyone around the city for voting, especially in our home neighbourhood of Edmonton's French Quarter. We're looking forward to helping you with your physical and mental health needs into 2019!
For over 25 years we've given patients of all ages and ability levels the best in natural health care. Our chiropractors—Dr. Christopher Brodeur and Dr. David Connick—practice both traditional and newer gentle chiropractic treatments in a friendly and comfortable environment.
"The fact that the Star Metro Edmonton Community Choice Awards is voted on by real people—real Chiropractic patients and real Edmontonians—is so important to us," said Dr. Brodeur, who is also our clinic's owner. "We take care of our clients and we're so thankful to know that they acknowledge that."
Over the years, we've made sure that our clinic has grown with our clients. We rely on the people in our community to tell us what's important to them. At the end of the day, we're here to serve the people in our community so what we offer changes quite a bit based on our clients' needs. We now offer radial shockwave therapy, Dr. Connick utilizes the Graston Technique as part of his chiropractic treatment options and we're constantly exploring new and updated treatment methods for our clients.
"Our clinic as a whole continues to grow," said Dr. Brodeur. "This year we've even welcomed a registered social worker to compliment the psychological services offered through the clinic. And so many of our clients are loving the dedicated work of our official greeter Kya, an adorable 10-month-old Saint Berdoodle (Saint Bernard/Standard Poodle) puppy!"
Providing the best service to earn the trust of our community makes Whyte Chiro stand out in people's minds. "There's always something new—something inspiring—to draw from in a city as vibrant as ours," said Dr. Brodeur. "We consider all of Edmonton to be our community and we're so proud to be recognized by such a wide spectrum of Edmontonians." Visit our clinic on Whyte Avenue; our entire staff (including Kya) can't wait to meet you!